BENEFITS
+ Improved Mental Clarity + Focus*
+ Lowering Cortisol Levels*
+  Improved Memory*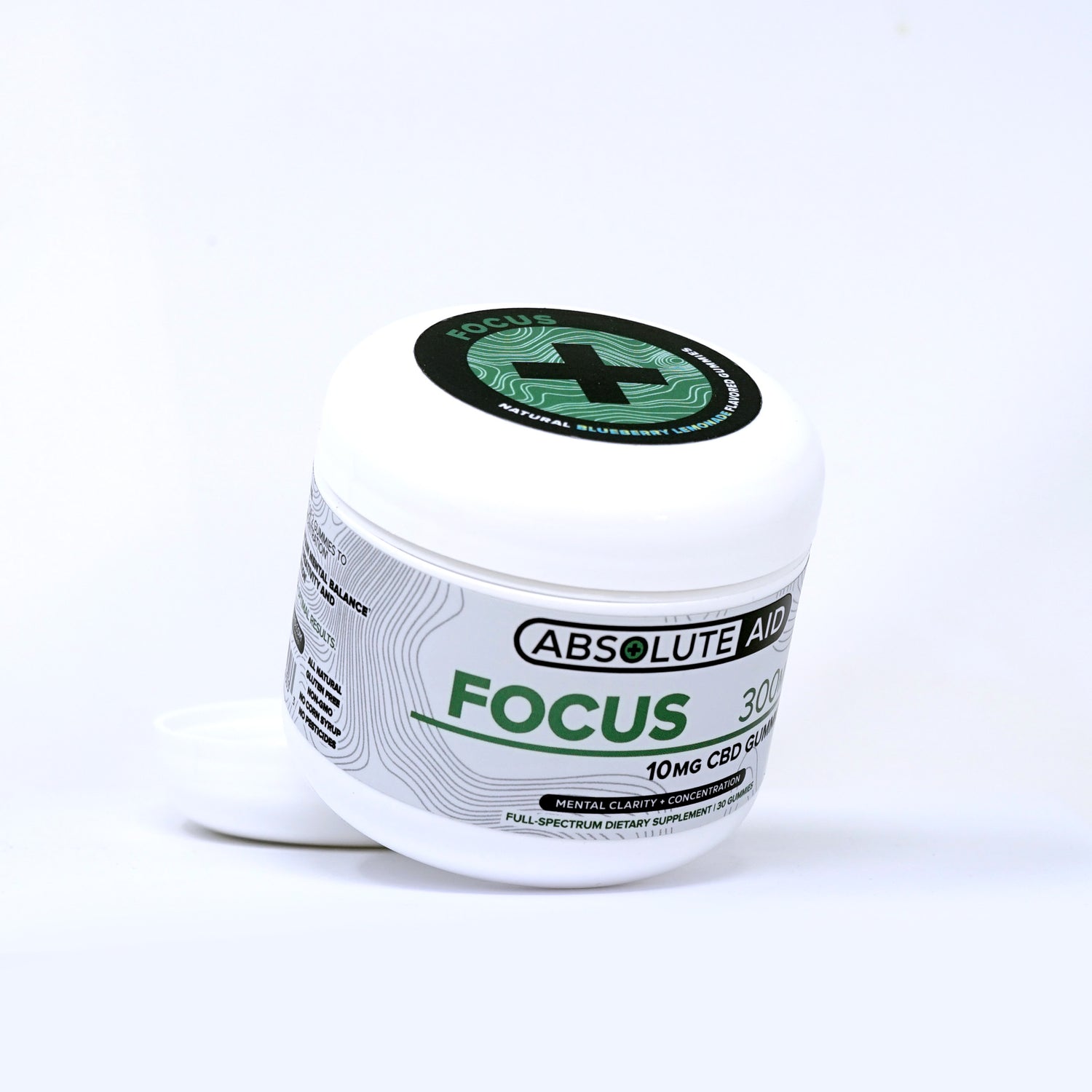 Your training and performance requires focus.
If your head isn't in the game you will lose. Plain and simple.
We want to see you win.
Our Focus gummies combine the power of full-spectrum CBD with the focus sharpening plant, ashwagandha, to create the ultimate natural concentration aid.*
Take Focus with you to the gym, the field, the trail, or the mat so your mind is clear when it's time to do work!
Because you deserve to perform with a clear mind and laser-focus! 
More Information
PRODUCT DETAILS

Absolute Aid FOCUS jars contain 30 gummies.

- Full-spectrum extract per jar: 300mg
- Serving Size: 1 Gummy
- Full-spectrum extract per serving: 10mg
- Ashwagandha: 100mg
- Total Servings per jar: 30

Drug-Tested Athletes & Employees: Before consuming any full-spectrum CBD product, please consult your individual sports organization/place of employment to ensure that they are approved. Despite federally legal trace amounts of THC, taking full-spectrum CBD gummies may cause a positive drug test result.

These gummies contain less than .3% THC. The hemp-extract-derived cannabinoids in each of our formulas are certified and authenticated by pharmacist-approved testing and analysis to assure label integrity and precise levels of active ingredients.
SUPPLEMENT FACTS

Supplement Facts

Serving Size: 1 Gummy (10mg)
Servings Per Container: 30 Servings
-------------------------------

Calories  2
Total Carbohydrates  0.3g **
        Total Sugars  0.2g **
Total Protein  0.2g **
Full Spectrum CBD  10mg **
Ashwagandha 100mg**

-------------------------------

*Percent Daily Values are based on a 2,000 calorie diet.
**Daily Value Not Established

-------------------------------

Other Ingredients: Water, Beef Gelatin, Sugar, Isomalt, Natural Flavoring, Citric Acid