BENEFITS
+ Exercise Recovery Supplement
+ Reducing Inflammation*
+ Reduces Joint + Muscle Soreness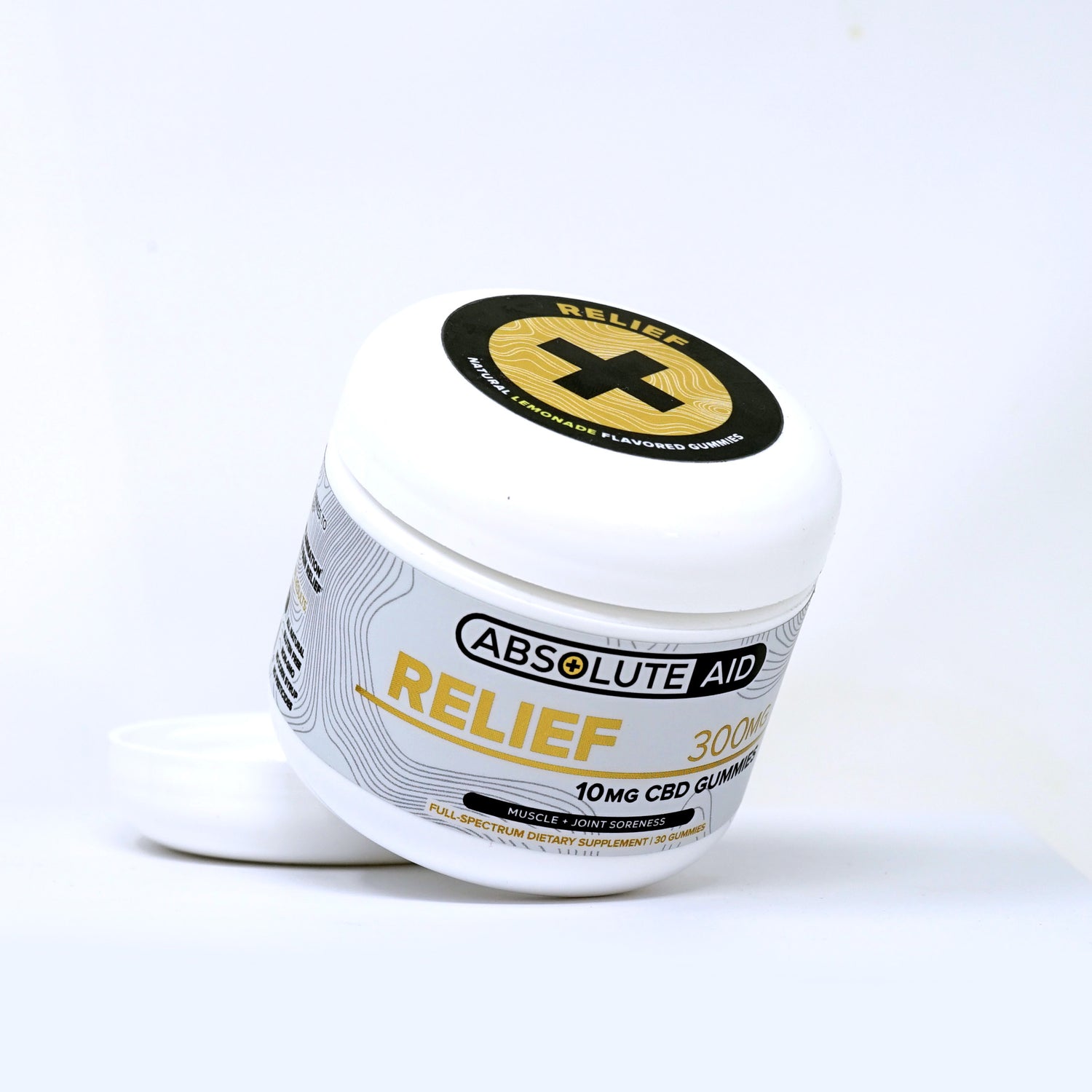 As athletes we demand more from our bodies...
Whether it's in the gym, at work, in the mountains, or on the field, it's crucial to help your muscles and joints recover after a hard day.

Our Relief gummies offer a 1-2 punch of anti-inflammatory support after those hard workouts by merging full-spectrum CBD with PEA (palmitoylethanolamide).
The faster you recover the faster you can get back to doing the things you love.
Add Relief to your post-workout protocol so you can get right back at it tomorrow... 
...because we know you will be!
Recover with Relief!
More Information
PRODUCT DETAILS

Absolute Aid RELIEF jars contain 30 gummies.

Full-spectrum extract per jar:   300mg
Serving Size: 1 Gummy
Full-spectrum extract per serving: 10mg
Total Servings per jar: 30

Drug-Tested Athletes & Employees: Before consuming any full-spectrum CBD product, please consult your individual sports organization/place of employment to ensure that they are approved. Despite federally legal trace amounts of THC, taking full-spectrum CBD gummies may cause a positive drug test result.

These gummies contain less than .3% THC. The hemp-extract-derived cannabinoids in each of our formulas are certified and authenticated by pharmacist-approved testing and analysis to assure label integrity and precise levels of active ingredients.
SUPPLEMENT FACTS

Supplement Facts

Serving Size: 1 Gummy (25mg)
Servings Per Container: 30 Servings
-------------------------------

Calories  2
Total Carbohydrates  0.3g **
        Total Sugars  0.2g **
Total Protein  0.2g **
Full Spectrum CBD  25mg **
PEA (Palmitoylethanolamide) 100mg**

-------------------------------

*Percent Daily Values are based on a 2,000 calorie diet.
**Daily Value Not Established

-------------------------------

Other Ingredients: Water, Beef Gelatin, Sugar, Isomalt, Natural Flavoring, Citric Acid