BENEFITS
+ Post-Workout Recovery Support* 
+ Daily Stress Management*
+ Helps Cultivate Healthy Sleep Cycles*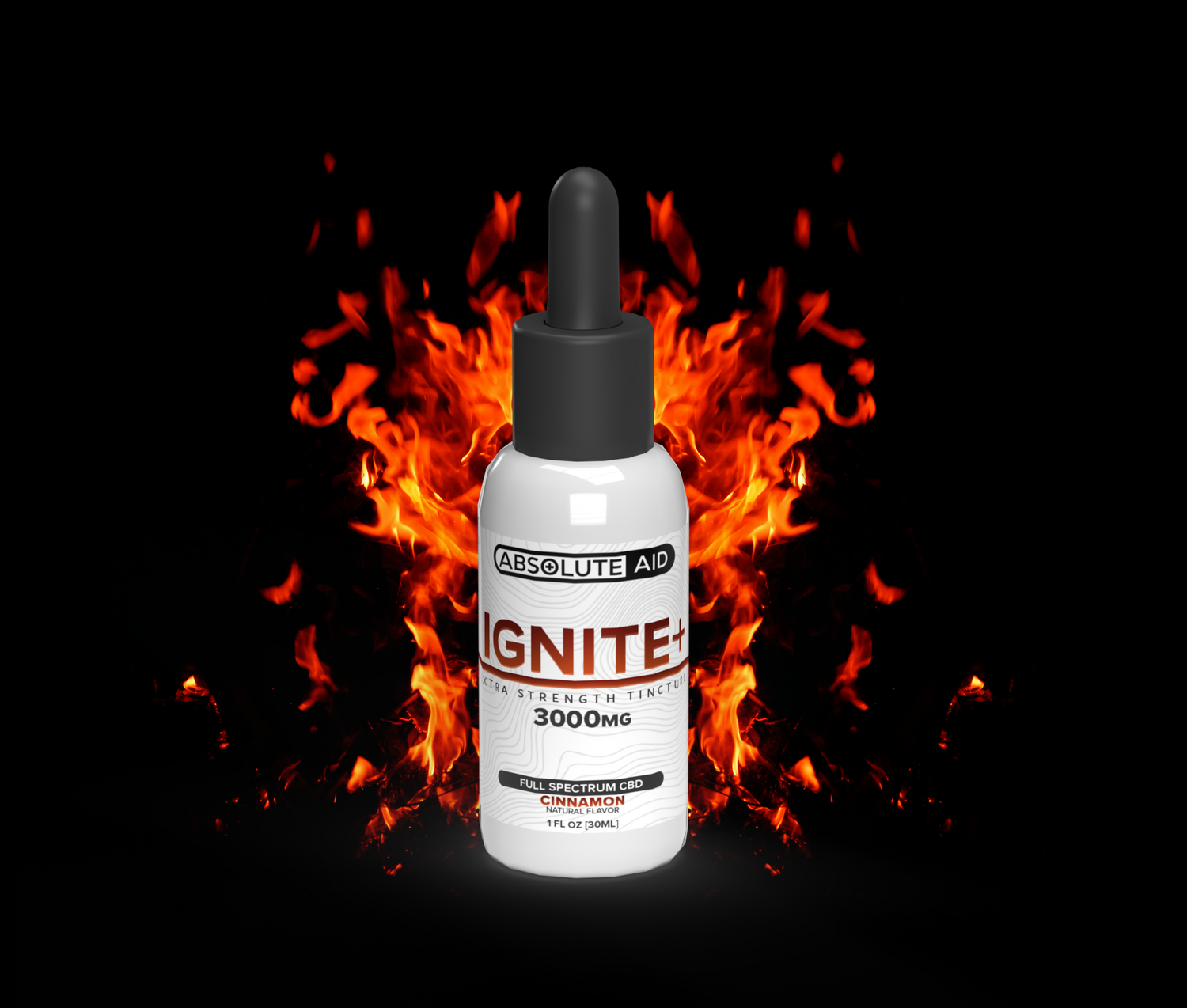 You put a lot of effort into your athletic pursuits so you deserve a recovery supplement that works just as hard!
IGNITE packs a high-potency CBD punch in a convenient (and delicious) tincture to help your mind unwind and your body rebuild when you're finished getting after it.
NO MORE...
missed workouts because your body isn't recovered.
feeling mentally and physically drained.
Instead refuel and recharge with IGNITE so you can turn tomorrow's training into a triumph!
…because you deserve to be unstoppable in all of your athletic pursuits! 
IGNITE YOUR RECOVERY
More Information
PRODUCT DETAILS

Absolute Aid® IGNITE contain 60 servings.

-Full-spectrum extract per bottle:  3000mg
-Serving Size: .5ml (1/2 dropper full)
-Full-spectrum extract per serving: 50 mg
-Total Servings per jar: 60

Drug-Tested Athletes & Employees:Before consuming any full-spectrum CBD product, please consult your individual sports organization/place of employment to ensure that they are approved. Despite federally legal trace amounts of THC, taking full-spectrum CBD gummies may cause a positive drug test result.

**THC Below Detectable Limit
SUPPLEMENT FACTS

Supplement Facts

Serving Size: .5 mL (1/2 dropper)
Servings Per Container: 30 Servings

-------------------------------

Calories  10
Total Fat 4g 4%
Saturated Fat 4g. 4%
Cannabidiol 50mg **

-------------------------------

*Percent Daily Values are based on a 2,000 calorie diet.
**Daily Value Not Established

-------------------------------

Other Ingredients: MCT Oil, Hemp Seed Oil, Stevia, CBD, Natural Cinnamon Flavor